Reviews
Reviews
Recent review of a concert in Crieff, Scotland:
http://www.strathearnmusicsociety.btck.co.uk/Reviews/Review-AymanJarjour
Audience reaction to Ayman Jarjour's Carnegie Hall debut
So much love in the room, coming from you, going to you. I am a pianist and organist, and you've given me something to emulate when I perform myself.
What astonishing, truly musical playing! A real gift for which we are grateful. I go to lots of concerts, but this was something apart. Victor Frost, composer
Felicidades!! [We] had a wonderful time at your Carnegie Hall concert. Yours is a special gift. The gentleness of your character transforms into a powerful grace on stage that is so inviting. This was beautiful to see and experience. BRAVO!!!
It was a joyous occasion... All the ingredients were there - impeccable musicianship, genuine passion, the ability to communicate with the audience, a personal approach that remains true to the composer yet puts your individual stamp on the music - it's going to be exciting to see where this leads you eventually.
Bravo! We all enjoyed your recital immensely last night....[Name] really liked the tango, incredible.... Overall, a very elegant and brilliant performance.
That was really lovely, the concert the other night. What a tremendous success.
Alf mabrouk! It was beautiful!
You were fantastic! I have never enjoyed a classical music performance as much as I did yours. Besides the quality of your playing, I thought the program you performed was exquisite. All the pieces were interesting, melodic and memorable. Everyone I went with had a great time.
To say that we loved your Carnegie Hall debut on the 19th would be an understatement. We both had a wonderful evening.... We will remember that evening well, who knows, forever?
What a wonderful performance!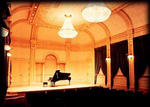 Ayman Jarjour
Email:
Website: