Biography
Since his recital debut in Damascus, Syria, Ayman Jarjour has been actively performing in the Middle East, Europe, the United States, Africa and the Far East. His solo performances with orchestra include the world premiere of Olypmus (concerto for guitar and orchestra) by Evis Sammoutis with the Hessle Sinfonia. He played the Syrian premiere of Rodrigo's Concierto de Aranjuez with the Syrian National Symphony Orchestra conducted by Solhi Al Wadi and Concierto Andaluz with the Syrian Philharmonic Orchestra conducted by Nahel Halabi.
Ayman's international performances include concerts in London, Edinburgh, Brussels, Beirut, Madrid, Manchester, Bonn, Tunis, Khartoum, Amman, Valletta, Basel, Cairo, Alexandria, Damascus, Helsinki, Istanbul, Prague, Budapest, Berlin, Los Angeles, Lagos, Abuja, and Taipei. The latter attended by the Taiwanese President. In New York, he gave a concert to standing ovation at Carnegie Hall's Weill Recital Hall as winner of Artists International's Special Presentation Award.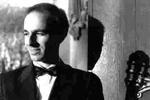 Below: Ayman with Pepe Romero in New York
While pursuing his Master of Music degree at The Juilliard School, Ayman performed in concerts at the Juilliard Theater and Alice Tully Hall. He also performed at the Continental Center and the Salisbury State University Concert Series and played in the Focus! Festival as well as in the Juilliard productions of The Three Sisters by Chekhov and A Winter's Tale by Shakespeare.
Ayman received his Bachelor's degree from the Royal Conservatory of Music in Madrid, Spain where studied with Jose Luis Rodrigo, Segovia's favorite student. In New York he strudied with Sharon Isbin (Juilliard); in Boston with Neil Anderson (New England Conservatory) and in Damascus with Nabil Ghrewati.
Ayman served on the faculty of the High Institute of Music in Damascus and has been teaching in different cities (Madrid, London, Brussels, New York among others.)
He is involved with many charities as trustee, fundraiser, patron and being Arts and Culture Ambassador for the Scottish Refugee Council.
His repertoire includes works with Spanish, Latin American, Classical, Middle Eastern and Modern flavours. He plays an instrument made by Egyptian luthier Jean-Paul Haggar.